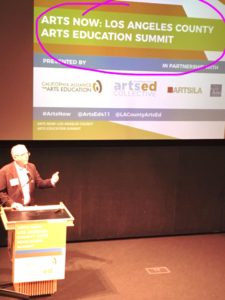 On December 8, 2017 the California Alliance for Arts Education and the Los Angeles County Arts Education Collective came together to produce Arts Now: Los Angeles County Arts Education Summit. For the Alliance, this was part of their statewide Arts Now campaign, an effort to highlight progress for arts education and share promising practices with educators and advocates. For the ArtsEd Collective, this was a chance to celebrate 15 years of progress supporting the expansion of arts education across the 81 local school districts and several charter school networks in the County. I was honored to help launch our day at the Japanese American National Museum with some opening remarks.
My theme was optimism. It's time for our field to take ownership of the progress and forward momentum we have helped achieve. This means letting go of the narrative of scarcity and victimhood for arts education. The fact is that school boards in more than 65 Los Angeles County local districts and charter school networks have adopted policies, plans, and specific budgets to expand arts education for K-12 students. Similar progress is being made across California. For every challenge we continue to face, we can point to specific teachers, schools, and districts that have found effective solutions. We still have a long way to go. But our message needs to be one of hope and promise. We need to invite people to join the exciting efforts underway and help us ensure all students benefit.
The good news is that our optimism can be grounded in data, not just anecdotes. At the Summit we released "The Los Angeles County Arts Education Profile," an in-depth school-by-school look at the status of arts education. The report includes many key findings.
· Arts instruction is offered in nearly every school in LA County, and most schools offer two or more disciplines.
· Very few schools offer year-long arts instruction to all students.
· Grades 7-8 are the peak years for arts instruction, when all disciplines are offered in nearly every school.
· In general, the quantity of arts instruction is higher in elementary grades, while the quality of instruction is higher in secondary grades.
· Nearly every school has at least one credentialed arts instructor (full or part time) teaching an arts discipline.
The fact is that arts education is on the upswing and we have the collective capacity to do much more. Please join the effort to take our efforts "to scale" and reach all students, especially those kids in the neediest schools that stand to benefit the most.