Our 2017-18 season marks the second year of The Wallis Youth Theater Company. Under the leadership of Madeleine Dahm, Artist-in-Residence for GRoW @ The Wallis, the Company provides an opportunity for young actors (ages 19-25) to make the transition from "students" to artists; and from "soloists" to becoming part of an artistic collective. Many organizations offer exceptional classes and workshops for actors. There is no shortage of these opportunities in LA. There are also wonderful opportunities to be part of a "student show," whether in a school, college or community setting. But the opportunities in a professional setting for young actors leaving high school are limited. Often the available roles are quite small and focus on typecasting a young actor in the role of "the young person" in a cast of adults. An ongoing company puts our actors at the center of the work and also provides time and space for learning and exploration of new creative processes, outside the immediate pressure to put a show on stage. By bringing together a diverse group of actors it affords them an opportunity to meet and work with people beyond their existing "comfort zone."
We are pleased to introduce the talented artists who comprise The Wallis Youth Theater Company.
Returning Members:
Kai Jones
Originally I joined the Wallis Young Company not knowing exactly what to expect, but feeling it was an amazing opportunity to continue growing artistically with other actors close in age, who were going through similar life experiences. After being a part of an amazing inaugural year with an incredibly gifted group of people, I now know exactly what to expect: A professional environment where young actors can develop and mold socially conscious, thought provoking, and emotionally powerful work; that when looking back, will always make me proud as both a world citizen and as an artist.
Kelvin Morales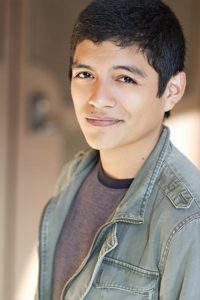 Now in my twenties I have been acting since my freshman year of high school. I was lucky enough to have a theatre teacher that was passionate about the world he was living in, so this meant that the plays we explored would often have ties to current social or political issues. After four years in his class that passion rubbed off on me. Since then I have been pursuing acting, most recently working with classical theatre company Theatricum Botanicum where a fellow actor told me about this young company at The Wallis. I didn't know what to expect when joining, and I don't think any of us expected it to be the success that it has been. Through Madeleine's leadership we have been able to mount two productions at The Wallis and was invited to take one of them to Italy this past summer. This is the only place where I feel like I can tell the stories that I want to tell -I feel that this is just the beginning. That's why I had to come back for the second season.
Alex Sheldon
I was trained and raised in the classical theatre and found out about the Wallis Young Company through a colleague of mine at Will Geer's Theatricum Botanicum. I am returning for the company's second year because I have found a true artistic home in the Wallis. As a member of the company, I have been encouraged to work in ways previously unfamiliar to me; physical, contemporary theatre with immediate social and political relevance has now become an integral part of my repertoire. The company is also a place where I can bring my previously acquired skills and interests to the table, such as my work as a Shakespearian actor, fight choreographer, and mask-maker. This is a truly talented and diverse ensemble creating unique theatre through a collaborative process, one that coaxes the best out of all of us, and has resulted in two of the best productions I have ever been a part of. Trust is the operative word in this company – We all place our trust in our director, Madeleine Dahm, because we know she will push us to draw on the beauty of our own personal experiences whilst holding us to the highest standards of professionalism.
Jordan Rodriguez
Jordan is returning to start her senior year at AMDA College and Conservatory of the Performing Arts, after having taken a semester off to perform at the Crisis Arts Festival in Italy as a member The Wallis Young Theatre Company. This will be her second season as a member and she couldn't be more excited to reconnect with her fellow actors and to once again create compelling, socially conscious work. Jordan strongly believes in creating art that stirs something within audiences and has pursued this through her writing and other productions.
Jayde Kief
Jayde Kief, originally hails from Cincinnati, she forged her way to the West Coast after placing top five in an International Talent Showcase. Returning for her third year at the Wallis, Jayde is thankful and privileged to have "been adopted" into the Wallis Family. The Wallis is Jayde's safe place to explore her artistry, seeing how far she can push her own boundaries. Challenging the ideas of traditional performance genres, and influencing her life in so many positive ways, like being able to collaborate with fellow young artists who share the same passions, she wishes she could spend every day at the Wallis. Jayde is also a classically trained dancer and after Initially participating in The Art of Choreography program at The Wallis, she joined The Young Company last year. As a member of the Young Company Jayde is happy to be able to integrate her skills and her passion for acting, dance and choreography.
Trecey Dory
Trecey is on sabbatical from the company until January 2018.
Trecey is happy to be a part of the Wallis Young Theatre Company. He is a working actor here in LA. He hopes that by being a part of this company, he can help spread a message of love and equity among people, no matter their creed, religion, skin color etc.
New Company Members:
Olivia Buntaine
When I was at university, I became particularly interested in the intersection of gendered violence and classical theater, and very passionate about combatting sexual assault on college campuses. I came to realize that the tool that came most naturally to me in addressing these issues was theater. At that time, I devised a one woman play about sexual violence on campuses interwoven with Shakespearean heroines. Since graduating, I have worked with a number of classical theater companies in Los Angeles, but have had trouble finding one that integrated commitments both to excellent theater and to social justice – which is how I eventually found my way to The Wallis. I was really impressed with the depth and dynamism of the work and the shared passion for using theater and storytelling as vehicles for social change.
Matthew Maguire
I have been acting since the age of 16. I trained in dance, drama and singing in Liverpool, England before moving to London to pursue a career in theatre. My work has so far spanned counter culture work like commissioned performance art pieces, alongside leads in West End theatre. I moved to Los Angeles in 2016 to continue my acting pursuits and see the world. Initially, Michael Arden directing Pride brought the Wallis to my attention. Then I saw the caliber of shows that were coming through. I was overjoyed to see there was a young company as I had been been looking for one since I arrived here – Some of the best actors in England started at the National Youth Theatre, and then Madeleine's bio on the Wallis' website really stood out to me. So I ended up calling every other week to find out when auditions were happening, I am so happy to be a part of this great company of actors and I'm excited for what the future holds for us.
Madalina Nastase
I was born and raised in Romania, and at the age of sixteen I decided to travel and live by myself in London. Two years later, I moved from London to L.A., where I attended the University of Southern California to receive my education in acting. Since recently graduating I am finding creative support and growth in this challenging field with The Wallis Young Company. At the moment, my artistic curiosity lies in the human connection – specifically, in love and belonging. To what lengths do people go to satisfy these needs, and what happens to humanity when they are deprived of them? I think this is especially relevant today, where internal struggles of loneliness and separation are heightened by the current socio-political environment.
Helya Salarvand
Having been born in Iran and moving to America at the age of six, I found myself in the theater yearning to give voice to women who're absent from mainstream narratives. My passion for acting and activism sprouted from the same seed. I am so proud to be part of The Wallis Youth Theater Company because of our commitment to putting out relevant, socially conscious, and often brand new works of theater. As an actor it's a gift to be allowed to participate in the creation or development of a play, and that's also what drew me to the company. I look forward to being a part of The Wallis Youth Theater Company's second season
Mauricio Morazan
I believe each one of us has a purpose on this Earth. Many of us have different callings and some have very similar ones, but at the end of the day, they're all unique. I realized my purpose here is to inspire others by entertaining them. I had just graduated high school when I stumbled across this opportunity at the Wallis. Now, I wake up every day with the opportunity to inspire, create, and enjoy my art. When it is all said and done, I hope I will be able to say that I lived by these following words… "Make art happen."
Siera Williams
My name is Siera Williams. I'm a young actor and poet, arriving from Huntsville, Alabama. I moved to Los Angeles to study theater at the Lee Strasberg Institute for Theater and Film. Along the way, I've been in 2 short films, Blessed and Social Life, have had my poetry featured and performed in the play titled He Calls Me Rib, and starred in the one act play, Birdbath as Velma Sparrow. I've been apart of the Wallis for two years as a staff member, and now I'm excited and extremely pleased to join the young artists taking up residence here, learning from both my peers and Madeleine Dahm what it means to be apart of a theater company and to create works of art together.
Nachalah Duclerne
My name is Nachalah Duclerne and growing up, I'd always had a love for theatre, seeing the beautiful sets, lights etc…. it's always been my passion.  As I got older and came to terms with myself as a person, I realized that within this timeless art form, people should be able to take away something more than just being entertained when they leave the theater. I joined this company because I wanted to be part of something bigger – I want to inform an audience. From attending the company's performances last year, to the rehearsals we've had so far, I can be sure of that. Being a part of something that is greater than yourself is the biggest honor you can have.