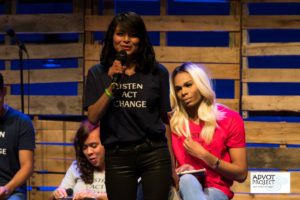 Arts learning is integral to all that we do at The Wallis: connecting audiences with the very best in the performing arts; using the power of the arts to build community and address pressing social issues; and responding to critical needs in the greater community through arts leadership, collaboration and partnership. We were proud to bring this mission to life in our recent collaboration with Naomi Ackerman and The Advot Project. The Wallis invites other nonprofits to join us as Community Partners. We provide tickets for our Partners to bring their constituents to performances throughout our season. We are honored to have The Advot Project as one of our Partners. This "Listen" project grew out of that relationship.
We've been inspired by the work theater artist Naomi Ackerman has done with young women in the juvenile justice system during the time they are incarcerated and after they return to the community. Against all odds, these young people are determined to turn around their circumstances and chart a better path. Yet, the "systems" designed to serve them are fragmented and often leave large "cracks" though which a young person can fall. While all the statistics are important, the stories of each individual are even more powerful.
On December 13, 2017 we welcomed a diverse mix of people from across Los Angeles to open their hearts and truly listen to a group of these brave young people. Our Lovelace Studio Theater was configured in a cabaret format, with audience members seated around small tables. Our guests were placed with people they did not know. To begin, each was asked to write five things that define how they see Los Angeles. Each person had an outline of a hand and filled in each finger with "My LA is……."..
Then four young people took the stage along with Whitney Wakimoto, one of the facilitators working with The Advot Project. Through poetry, song, and dance they shared parts of their journey. They told of the pain and hardship and of their hopes and dreams. They shared some of their bad decisions as well as their passion to find a better path. Gina said "accept me for who I am, not for what I have been through." They were joined on stage by young people from another of our Community Partners – Move the World DanceActivism (www.movetheworldnow.com). They performed a dance piece about a young woman with a very tough exterior struggling to get back in touch with her younger and more innocent self. A brief video was played revealing the enormous distance that separates the affluent from those struggling to get by in LA. For some people "My LA" is about sunshine and Palm Trees. For others, it is about gang violence and homelessness. The presentation concluded with the young people all together singing "Brave" by Sara Bareilles "say what you wanna say and let the words fall out."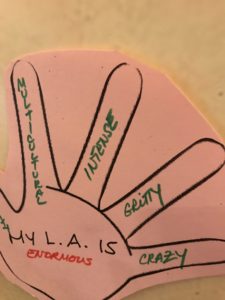 Naomi Ackerman then asked the audience to turn to those at their tables and share the pieces that comprise "My LA." They were then asked to reflect on the presentation and what aspects really touched each person. Finally, the audience was invited to share one thing they plan to do to contribute to a better LA, one where no young person should have to grow up alone. The rooms was full of animated conversation with people leaning in to share and to listen.
This event was designed to put a face on these issues and spark greater action and involvement among all of who want to shape a better Los Angeles. As the holidays approach, we believe our individual decisions to get involved are the greatest gifts we can give.