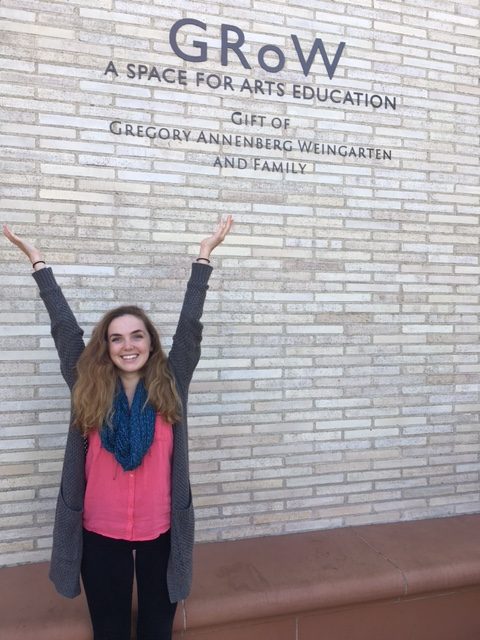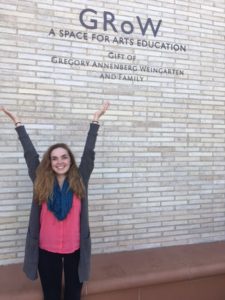 Megan McKiernan is a Los Angeles County Arts Commission Intern from Occidental College. She spent her summer internship at GroW – the Education and Community Outreach department at the Wallis Annenberg Center for the Performing Arts.
When I came to The Wallis, I assumed I would be converting forms from paper to excel. I thought I might be getting coffee, or talking about student matinees. I did convert things into excel (sheets of past students that The Wallis helped find their way in the arts), and I did get coffee (as a part of informational interviews that I adored doing), and I did talk about student matinees (in weekly meetings where I actually felt like a part of the team). However, I spent most of my time here at the Wallis learning about what arts education could be.
I had a long conversation with Heather Cooney, the Wallis Education Associate, about what it would mean if I left arts education for a while after working here. I wanted to explore other avenues, but I didn't want to give up my values and commitment to the arts. She explained that she thought working as an arts educator didn't necessarily mean teaching classes. Working as an arts educator is living as a mentor to others in your field. This meant I could be an arts educator no matter what I did. If I was working as a casting director,  I could be one that worked towards making theatre for everyone. I could use the knowledge and skills I accumulated to lift up other artists, just like the arts educators I found through The Wallis.
At The Wallis, I tried to treat every interaction like a masterclass. I believe that your education never stops, and that you can learn from everyone. I saw arts educators everywhere. In Invertigo Dance Theater's Dancing Through Parkinson's class, one of the students with a background in professional dance encouraged me through their routine. In The Miracle Project class, a gifted student reminded me to focus on what I was grateful for. I watched Naomi, the inspiring Teaching Artist spearheading The Advot Project, act out scenes about healthy communication with a group of young women. Cate, the stage manager for a new original musical called Headless, helped me attend their rehearsals.
Wallis Director of Education Mark Slavkin introduced me to Rachel Hoffman, a Broadway casting director, and I was able to shadow Rachel for her day of casting as part of the Broadway Dreams program. By the end of the day, she was working with me, not in front of me. She would sometimes turn to me with questions about the musicals people were singing from, and I was surprised to find I knew the answers. Her lesson to me was a reminder of how much I already knew.
In my time as a student, I've discovered that people with initiative get the most out of their experiences. I'm talking about the kids who stay in office hours so long that they get kicked out so that the teachers can go to dinner. For this reason, I decided to start interviewing arts professionals. In my past few weeks I did some amazing interviews with Wallis Staff, and a few with people outside of The Wallis. Here are eight of my biggest takeaways:
Make your own content. If you ever want to work as an artist, find a part of your life you can control.
Everything you do is leading you somewhere. There are no wrong paths, just different ones.
Don't be embarrassed about having done your research. Be confident about your knowledge.
Learn that you belong in the rooms you are in. Don't apologize for your presence.
Subscribe to The New York Times.
Strive for respect, not for friendship. Not everyone is going to like you.
Take time to be present. Don't "act" present, just be present.
Move away from the idea that you need to "balance" career and "life". It's all just your life.
Be kind, be kind, be kind.I can truly say that I feel a part of The Wallis Education department. I have gotten to know my colleagues as professionals and as people. I have so much admiration for The Wallis mission to help everyone belong in a theatre. Thank you for teaching me for ten weeks, I hope to learn from you again soon!