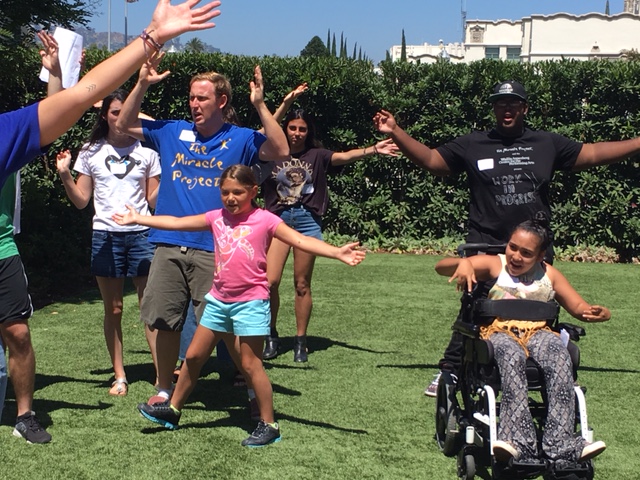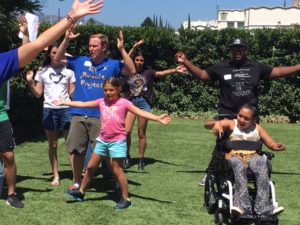 Daniel Sugimoto is an actor, music director and creator of musical theater.    
When inside the world of Beverly Hills, one can't help but feel a sense of movement, inspiration, and artistry.  From clothes, coffee shops, or elaborate window displays, Beverly Hills re-defines the 'Consumer Theme Park' mentality into a comforting pocket of culture. No where is this 'culture' represented more gracefully than the Wallis Annenberg Center for the Performing Arts. From the architecture on the outside to the composure on the inside, the center feels much like it's description; the center. The center of the city's culture, the core of its growth, and an inspiring statement across Los Angeles; real change is happening.
I was lucky enough to be introduced to Mark Slavkin, The Wallis' Director Of Education. During a quick meeting, Mark mentioned The Miracle Project to me and explained in detail his passion for the work.  Founded by Elaine Hall, The Miracle Project opens up the world of expression and artistic identity to young minds with autism or other disabilities.   The Wallis serves as artistic home for this wonderful program.  After hearing what the program aspires to accomplish and some of the radiant stories Mark so fondly shared, I was overpowered with this yearning to at the very least see this project in full swing. He said I could stop by and I've been happy ever since.
I made it to The Wallis during one of the Miracle Project's camp days and was again met with supreme comfort. At the front desk I met Anne, who led me to Heather, both all smiles and genuinely comforting energies. Then at last I was guided into a room where the counselors and teachers were leading some fun acting games with the students.  In the room not more than 10 minutes I whipped out my notebook and started jotting down the moments I wanted to remember. Usually I'm pretty efficient when embracing singular moments but given there were so many I did not want to risk forgetting. I've captured these special moments here, and changed the names of the students to honor their privacy.
Ryan Berman, one of The Miracle Project Master Teachers, approached me with a huge smile and said I could most definitely sit in and watch. Smile after smile, laugh after laugh, the energy was genuinely moving; like one's experience at their first broadway show. Because the classes were not just about drilling monologues, they were in their own way the finest form of communication I've ever experienced.  Nurturing, understanding, genuine, they allowed students to communicate their own way through their artistic expression by understanding the heart inside each person and how truly beautiful we all are. Which is, without an ounce of doubt what art should always be; the space in which everyone can communicate in their own way, what they feel and who they are.  Like "Carolina", one of the students in the camp.  She was smiling at every point throughout the day and after meeting she remembered my name at every break, lunch, and upon leaving, even though I didn't have a name tag.  Having learned she loved Hamilton and had seen it New York we discussed some of her favorite songs to which she said, "Satisfied", with a giant smile. Now within the LA world, when talking about any piece so widely popularized, one feels the need to equivocate their language as to shy away from a sense that they were at one point and/or still are dreamers. Carolina didn't care for all that, she had an answer, Satisfied, which was satisfying because it was her favorite. Love, dreams, music, they don't need equivocation, they are here for conversation and connection.  She showcased that love with unabridged passion and helped me to apologize less for what I 'love', and just love it.
Then I met Aaron, one of the most charismatic individuals I've ever met. The guy in the room who doesn't need to introduce himself to anyone yet you feel like you know him.  Ryan was leading an amazing game called 'Magician' and the premise was when you held this wand you could direct your piers to absorb the shape and/or energy of whatever you called out. Some notable ones were when asked to be a tree, everyone came up with different trees, when asked to be a drink, everyone came up with a different drink.  When it was Aaron's turn to hold the wand he asked that everyone be a wheelchair; not 'in a wheelchair', a wheelchair. Everyone in the class almost immediately became a wheelchair and it was magic because a wheelchair became this glorious, exciting character that brought everyone's energy to an easy 10. Aaron uses a wheelchair and his face lit up when everyone became one. It was connecting him to everyone, it connected everyone more to each other. I felt a give and take, an acceptance of, 'this is my way of communicating and relating to you all, how do you feel about that' to which everyone answered, 'we hear you, you are loved'.
I mention this moment because it is The Miracle Project; you are heard, you are loved, yet not exclusively within these walls, but because of who you are. The whole project is about sharing who you are, your own way of communicating, and expressing yourself, which is what makes art. I was reminded that we are not artists for going on stage and singing the best or making the most money or filling the most seats, what makes an artist is someone who can communicate on deeper levels to everyone's individual expression, engage in what inspires them, and propel them to their greatest sense of self. Mark, Anne, Heather, Ryan, Molly, Carolina, Aaron, everyone involved with The Miracle Project upholds this sentiment to the highest level I have ever experienced. I could talk about everyone I met that day, but I don't want to ramble on any longer.  Thanks to The Wallis for this and everything you will continue to do.