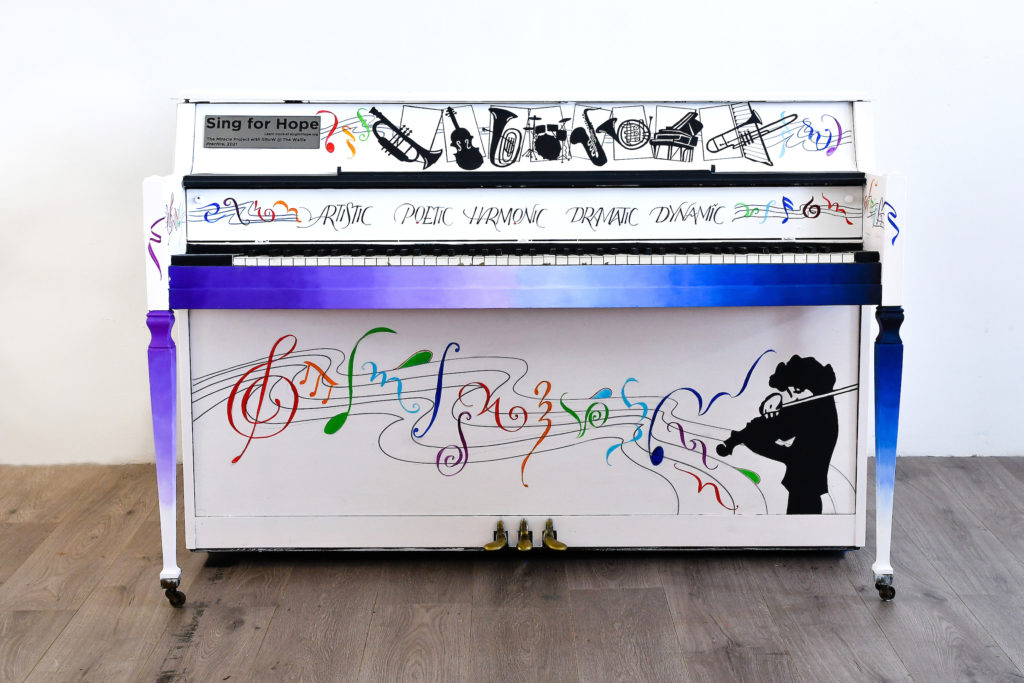 The Sing for Hope Pianos are one of the world's largest annually recurring public arts projects, placing artist-designed pianos in parks and public spaces for anyone and everyone to play. Sparking impromptu music-making and connection, the Sing for Hope Pianos create joy and community, bringing people together. This year, through an integrated partnership with the City of Beverly Hills and the Wallis Annenberg Center for the Performing Arts, Sing for Hope placed 16 artist-designed Sing for Hope Pianos throughout Beverly Hills from August 5 – September 6, 2021, and then transport them into their public schools across the greater Los Angeles area.
The Wallis was blessed to have our very own Beyond Words alum, Judi Donin, in partnership with a volunteer student from The Miracle Project, paint the piano that will live at the theater in an Education Wing classroom.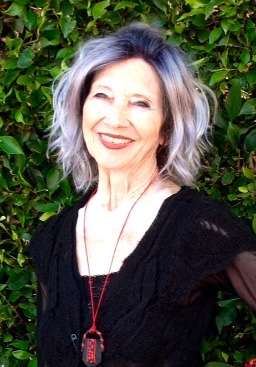 Prior to her career as an artist and calligrapher, Judi Donin was a dancer, studying with Merce Cunningham at Connecticut College, and Jose Limon and Martha Graham at Juilliard. She performed with several groups, and taught dance for many years. She worked for 21 years as a Calligrapher/Graphic Designer for the County of Los Angeles. Extensive travels, along with a foundation of dance have influenced the passion, dimension, and quality of her work, reflecting in the texture, balance, and liquidity of her design.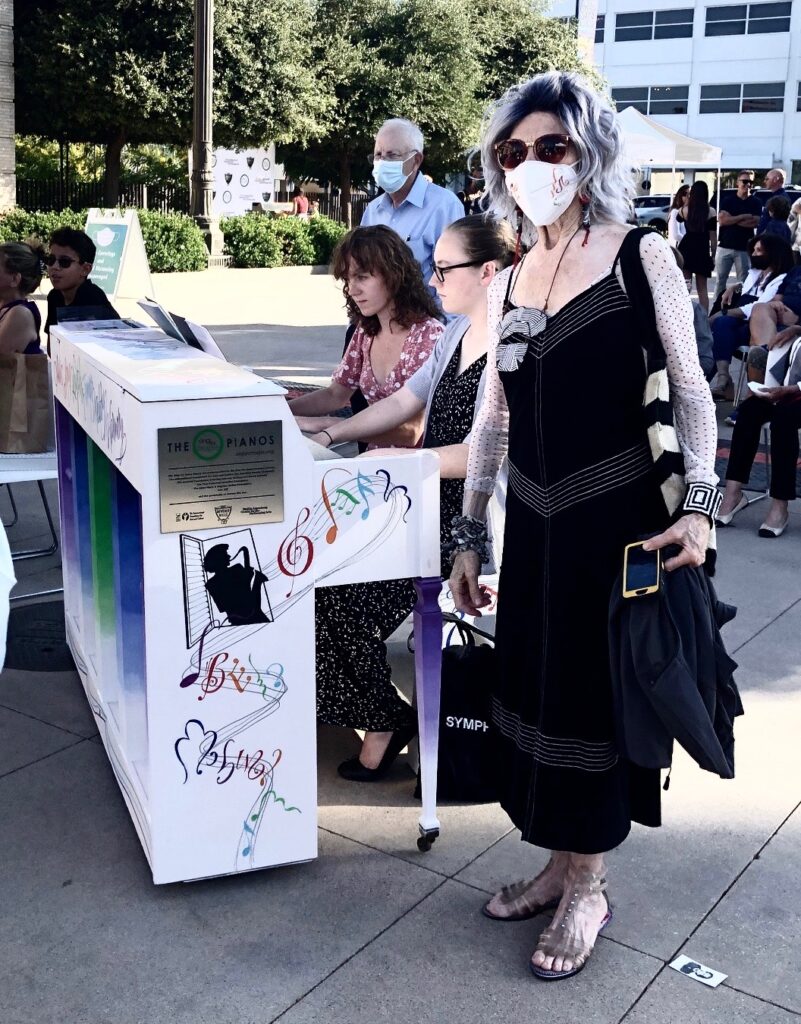 Inspired by her painting experience with The Wallis, Sing for Hope, and The Miracle Project Donin wrote this beautiful reflection piece.
OBSESSION
The Sing for Hope piano
By Judi Donin
Sing for Hope, a community-centered project, creating artist-painted pianos to share with the public on city streets, then placed permanently into schools, has been my captor from July first through the 25th. Invited by Debra Pasquerette, my infamous writing teacher at the Wallis, to be one of 16 people to paint an Upright Piano, the impetus evolved from a brief illustrated story presented in her class Beyond Words, about Music: "Attending Juilliard in 1958, before my classes in dance, I stood outside the entrance on Claremont Street absorbing the music pouring out of the upstairs' windows of every rehearsal studio, as I was enveloped by dazzling notes cascading down from the pianos, violins, cellos, trumpets, and trombones".
Debra's belief in my ability was an enormous honor as well as a lusty test. Translating the concept from a typing paper to a three dimensional piano was a bulky challenge in design, production, and stamina, bringing high levels of anxiety, including blistering doubt. Cancelling all my classes, phone calls, friends, and family, I plowed forward with laser focus.
After covering the piano with white acrylic – the fear of painting the first mark immobilized me, propelling 5 consecutive days of returning to the art store for advice and suitable products. The carbon paper left black marks that refused to erase – The actual lines I drew were inconsistent – the first image was too big and the wrong color – one of the pens splattered. Liberation came in the form of Whitewashing – costing a whole day to dry – but grateful that I could remove a mutilated section. During the last act – varnishing – the black lettering smeared – resulting in a dream where all the written words slipped down into the keyboard and vanished. Lack of sleep, already an issue, forged an interesting framework. Each night between 11 and 3 AM, I was awakened with ideas, solutions, and resolutions that I scribbled in my notebook to incorporate the following day.
I looked to god – who I don't really know, but needed supervision. The Wallis sent McKenna, a volunteer co-actor with The Miracle Project, who, at 18, had the ability and confidence to proceed in painting all the gradation areas – Plus lavish assistance from my partner Steve, daughter Nicole, & grandson Theo. My background as a calligrapher was vital, as well as utilizing my dance training as a semi-contortionist at 81, to paint while lying on the floor. Vacillating between fortitude, insecurity, and the duress of time restrictions – tenacity won.
And I'm forever grateful to Debra and The Wallis for this fabulously enlightening opportunity!