"Hope can be a powerful force. Maybe there's no actual magic in it, but when you know what you hope for most and hold it like a light within you, you can make things happen, almost like magic."

LAINI TAYLOR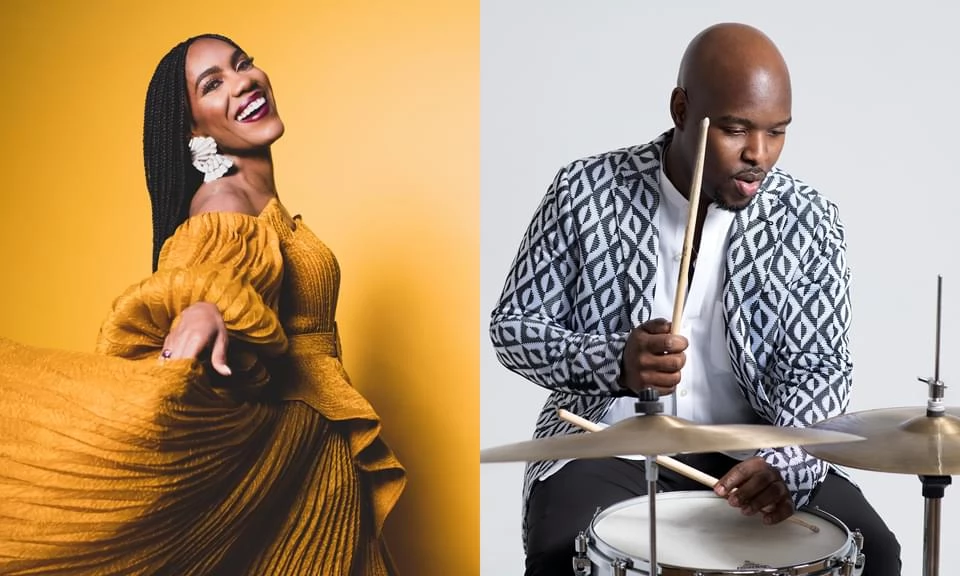 The human voice is considered the earliest musical instrument and the drum is regarded as one of the oldest instruments. Both are essential to communication and the formation of society and civilization. Simply put, without the drum or the voice there is uncertainty about how far humanity would have advanced. This truth speaks to the power of J'nai's operatic voice and Ulysses Owens' powerful drums a creating a musical partnership through their Chamber project, Notes On Hope.
Notes On Hope spans the musical spectrum, from exploring works of Duke Ellington to reviving classic art songs once performed by opera matriarchs Jessye Norman, Leontyne Price, and Kathleen Battle, all of whom have since passed the torch to J'Nai to carry into
the 21st century. Other instrumental moments will highlight Ulysses' musical direction and prowess as a jazz drummer with his stellar ensemble. The ensemble will feature the works of lesser known jazz composer luminaries such as Geri Allen, whose music fits eloquently within the thematic focus of hope.
With regard to their culture and heritage as African American artists, it is important to note that there is a greater subtext here between Ulysses and J'Nai. They are both utilizing this moment to highlight Black contributors in the classical and opera realm who have been often overlooked. Their artistry will shed light on beautiful works by composers like Florence Price, who truly embodies the adage, "because of them, we are."
The program is divided into three segments, the first of, which is Divine Hope, which focuses on the power of creation and is the conduit between hope and faith. This section begins with "The Lord's Prayer," as a devotional musical moment to cleanse the palette and center on the intention for the evening, which is reverence."
Following "The Lord's Prayer," Duke Ellington, who is considered to be one of the greatest American composers, will be featured. Ellington happened to have composed several compositions for soprano voice dating back to the early 1940s. "Creole Love Call" was one of the first compositions that Ellington composed for his orchestra and singer Adelaide Hall, and shortly after he began to work with singers, Kay Davis and Alice Babs. It is important to note that Kay Davis and Adelaide Hall were trained classical African American singers who were unable to gain work because of the discriminatory barriers, so through Ellington's compositions they were able to perform. Two additional songs will be visited from this era, "On A Turquoise Cloud" and "Heaven." To conclude the Divine Hope segment, the ensemble will perform the classic spiritual, "There is a Balm in Gilead," which references an Old Testament scripture that speaks to the concept of a spiritual medicine that heals sinners. This spiritual has been performed by many great opera singers and is a spiritual rite of passage that only a voice like J'Nai can beautifully deliver and serve as a balm for the audience.
The second segment is titled The Crux of Hope which references the most essential shift and point of the process: where difficult matters must be addressed so that hope is a possibility. This segment begins with the composition "Skin" by prolific pianist and composer, the late Geri Allen, who broke many barriers for women in the jazz industry. This composition is very textural and features the band. It allows listeners to unearth the reality of skin, texture, color, race and creed, which unfolds beautifully.
DuParc's "L'invitation au voyage," composed in 1970, is a setting of two of three verses of the Symbolist poet Baudelaire's famous poem describing his love of the countryside in Holland. During this time, Baudelaire was in love with actress Marie Daubrun, and this poem describes a mystical trip growing in his mind, which finds them both in an exotic and perfect world.
"Je te veux" ("I Want You"), composed by Erik Satie with a text from Henry Pacory, has a sensual undertone because of the intimate relationship between Satie and Paulette Darty, which this song beautifully displays. It is a popular song rendered by Jessye Norman, Cecile McLorin Salvant, and many other brilliant vocalists. However, the arrangement performed in Notes On Hope is a very unique adaptation featuring unique instrumentation. "La Vie En Rose" ("Life in Happy Hues") also translated as "Life seen through rose colored glasses," is a favorite of J'Nai's to sing her adaptation of Edith Piaf's classic lyric.

The second segment will conclude with a beautiful Brazilian composition called "Boi Bumba," composed by Valdemar Henrique who is from the North of Brazil, and is inspired by Amazonian folklore, as well as Indigenous and Northeastern Afro-Brazilian Rhythms. J'Nai and Ulysses fell in love with a recording of Kathleen Battle and Christopher Parkening, utilizing that sound as the foundation for their arrangement of "Boi Bumba."
The final segment of the program is titled Hope Fulfilled which speaks to the reality that as we remain committed to the journey, we will experience the fulfillment of our efforts and hard work. Florence Price was a trailblazer and arguably the first African American woman to have her Symphony No.1 in E Minor performed by a major orchestra. She once stated, "I have two handicaps- those of sex and race." Her legacy is honored with a performance of two of her songs, first "Adoration," which was initially published in 1951 for the organ, but this arrangement has been orchestrated for rhythm section, harp, marimba, and voice. "Hold Fast to Dreams" is a song that she composed setting a poem by Langston Hughes, from the song collection Five Art Songs.

Ulysses writes, "A few months ago, I had dinner with Michael Feinstein, his husband Ken, and my mentor, the Celebrity Chef and Restaurateur Alexander Smalls in Harlem. I spoke directly to Michael about J'Nai, this project and the overall goals we desired to accomplish artistically, and he said, 'Ulysses, there is one song you have to perform, because it sounds like it was created for Notes On Hope, and it's called It's Good to Have You Near Again.' He began to sing the song to me right at the dinner table, and then introduced me to the album, Right as The Rain featuring Andre Previn and Leontyne Price performing many popular and accessible songs (with this one being my favorite), and Michael was correct. This song opened up a treasure trove for me, and to hear Leontyne's lyrical approach with Andre's gorgeous piano playing will, quite frankly, be the perfect close to the evening that illustrates the notes of hope that we have, and continue to have, as we are honored to perform and create again and again."